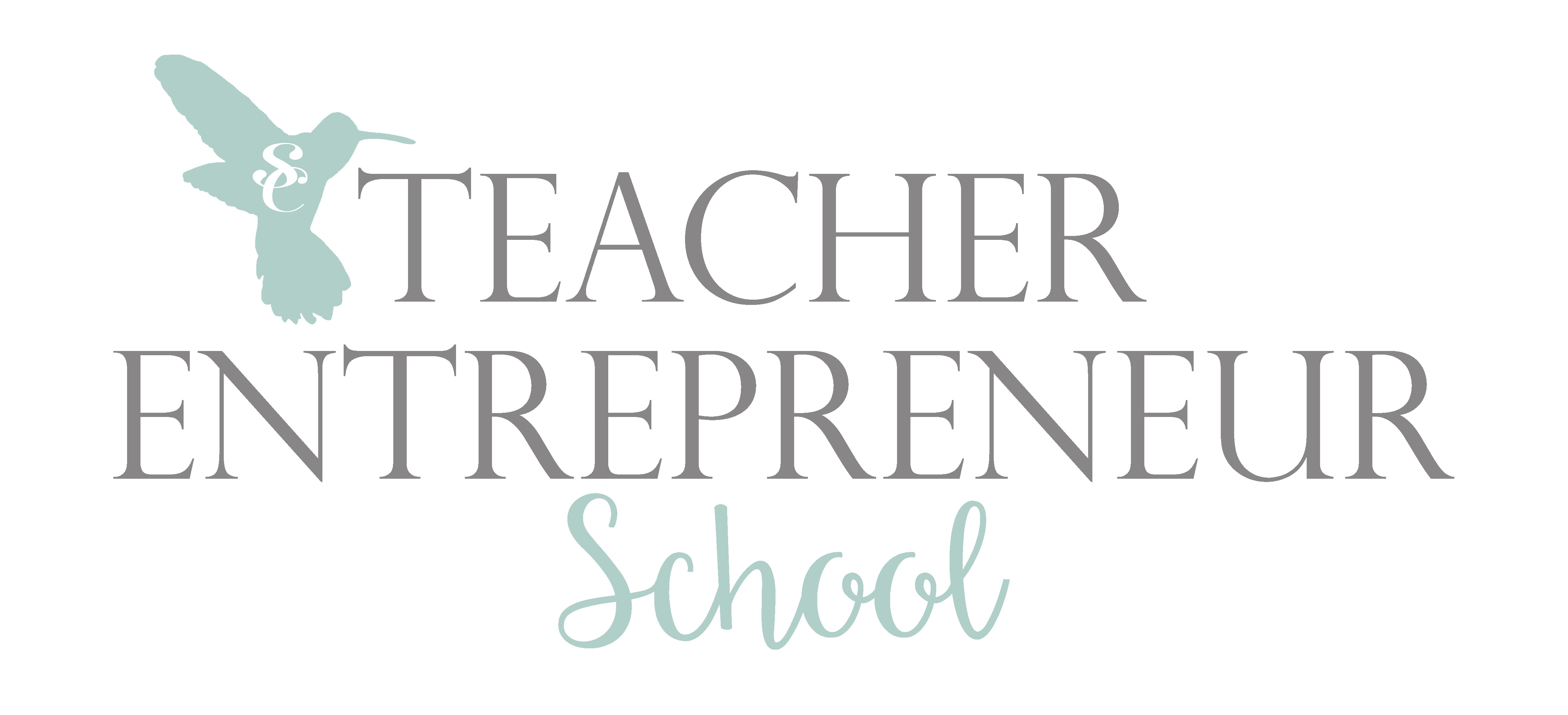 If you only take ONE business course in your life, this is it.
You're not here by accident. You're here because of your strong drive to be an entrepreneur. This course has crossed your path at the perfect time. It's a positive sign. A sign that the world needs your business dreams to happen now.
Let Teacher Entrepreneur School help. We take the stress, overwhelm, and worry out of starting a business. With our guidance, the business world is less intimidating.
Teacher Entrepreneur School is unlike any business course out there. This course was designed for teachers by teachers turned profitable entrepreneurs.
Teacher Entrepreneur School ...
- Guides teachers to confidently launch their own business after completing an engaging, interactive, tech friendly, easily accessible online business course.
- Accommodates the needs of a busy teacher and builds on the teacher's career experiences and desire to make a difference in the world.
- Provides valuable next steps, real-life examples, personal stories, and resources.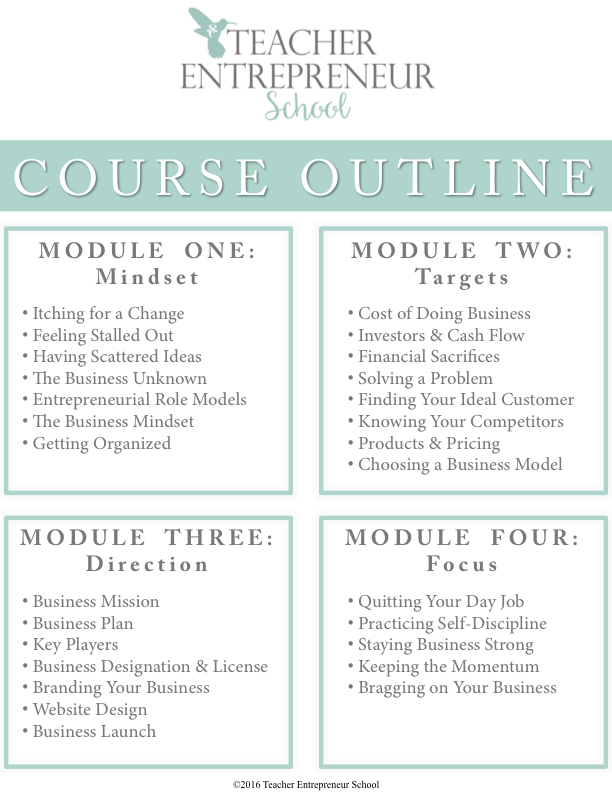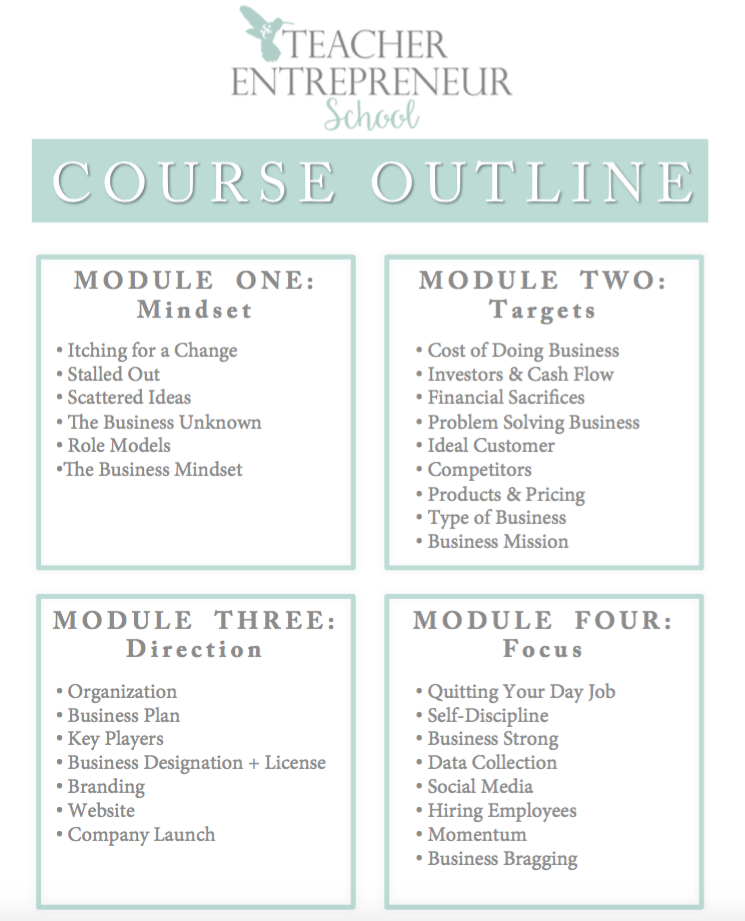 Here's What You'll Have Access To:
- A series of four, easy-to-digest modules
- Engaging videos
- Podcasts to take on the go
- Bulleted transcripts
- Coveted entrepreneurial resources
- Take action bonus sheets
In addition, you'll be invited to join our exclusive Facebook Group. Here you will connect with other like-minded and highly motivated Teacher Entrepreneurs. We'll also match you with an accountability partner to ensure your business momentum stays steady and strong.
An added benefit of Teacher Entrepreneur School is the accessibility you have to the course instructors. Caitlin and Sheila will offer you personal consulting and encouragement as needed.
Why wait any longer? Teacher Entrepreneur School provides you with the entrepreneurial skill set that will benefit you for the rest of your life.
Common Concerns.

We totally understand. Enrolling in Teacher Entrepreneur School is a big investment. Not only of your time, but also of your money. You may have partners, family members, or others who are questioning your decision to purchase this course. Let us help. Here are some talking points to ease the mind of others who we know ultimately want you to succeed.

Teacher Entrepreneur School seems pricey:
- Think about the "Return on Investment" of this course. Yes, the cost upfront is high, but the loss of not starting your business means potentially more dollars lost.

- The course is LIFETIME ACCESS. You can retake the course forever for FREE.
- Going back to business school would put you in serious DEBT. More student loans? No thanks!
- We've all done it. Had money flying out our pockets paying for mini-courses that were just bandaids for our immediate business needs. Teacher Entrepreneur School is a one-stop shop.
- One-on-one entrepreneurial consulting is extremely pricey. We're giving you access to personal consulting and encouragement from both Caitlin and Sheila. We've kept our class size small to promote networking opportunities and create an intimate adult learning environment.
What if there's no time for this course? Balancing between family, job, and everything else might be too much.

- With lifetime access you can truly revisit the course content on your own timeframe as needed.
- Two implementation weeks were strategically added in the course to allow process time.
- An accountability partner keeps you on track and is a sounding board for setting balance in your life.
- The course is made for teachers by teachers. We designed it with you and your busy schedule in mind. It's concise and meaty. We're not here to waste any of your valuable time.
Do you even know this Caitlin and Sheila? Who are they? Why their course?

- Yes. I have followed them on their entrepreneurial paths. One look at sheilajaneteaching.com and ebcamps.com proves that these ladies walk their walk and talk their talk. Everything about their business content is professional.
- The Teacher Entrepreneur School weekly show that they host is listened to and watched by hundreds of teachers.
- They possess the entrepreneurial spirit that inspires and motivates me. They are role models that I feel a connection to. They speak my language. I know that because they are teachers, they understand me and my entrepreneurial journey.
- Caitlin and Sheila generously share every detail of their expertise in entrepreneurship.
Still have questions or concerns?

We are here. Just drop us an email at teacherentrepreneurschool@gmail.com